Category Archives:
News

PAWS for People and our own Lynne Robinson (pictured holding Thera P. Dog, PAWS training demo dog) were recognized by The Cecil County Chamber of Commerce on May 14th, 2015 at a special recognition luncheon. Read the press release below or click here to open a PDF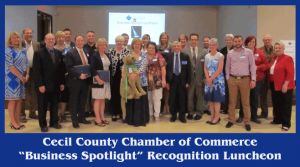 Cecil County Chamber Accentuates  the Positive in Our Community
The Cecil County Chamber of Commerce celebrated 19 member businesses, nonprofits and individuals on Thursday, at a first-time recognition luncheon at the Upper Chesapeake Ballroom in North East, MD., with special honors bestowed upon two employees of the Cecil County Department of Senior Services and Community Transportation.
The new "Business Spotlight" program was designed to pay tribute to businesses, nonprofit organizations and individuals, for major contributions to civic and economic growth.  The achievements for which members were recognized included new businesses, new ownership of existing businesses, significant business expansions, quinquennial anniversaries (5, 10, 15 years, etc.), and individuals or organizations selected for county, state or national awards.
Linda Burris from Delmarva Power, who serves as the current Chairman of the Board of Directors for the Cecil County Chamber, was asked why an event like this was needed.  "Individually, each of these accomplishments is worthy of celebration," said Burris.  "Collectively, they have even greater significance because they speak to the success of our business community and to the overall quality of life we enjoy here in Cecil County."
 The following businesses, organizations and individuals were presented certificates of recognition, with some being honored for multiple achievements:
Artesian Resources Corporation – 110 years in Business
Asian Garden – New Business
Bluegrass Materials – New Ownership of an Existing Business
Cecil County Public Library – Recipient of a National Award
CQI Associates – 20 Years in Business and National Recognition
The Fair Hill Nature Center and Environmental Foundation – 25 Years in Business
Geo-Technology Associates, Inc. – 30 Years in Business
Hollywood Casino – 5 Years in Business and Business Expansion
Marion Miller & Associates – 15 Years in Business
Morris & Ritchie Associates, Inc. – Significant Business Expansion
NorthBay – 10 Years in Business

PAWS for People – 10 Years in Business

Premier Auto & Tire – 10 Years in Business and Expansion of an Existing Business
ProCargo, Inc. – 20 Years in Business
Michael Ratchford, W. L. Gore & Associates – Individual Award at the State Level
Success Programs, Inc. – 25 Years in Business
Town of Cecilton – 150 Years in Business
West Cecil Health Center – Significant Business Expansion and New Facilities.
Honoree Lynne Robinson from PAWS for People was pleased with the exposure this event afforded her nonprofit organization.  "Thanks to the Chamber and their extraordinary efforts to increase visibility and possibilities for area businesses and organizations," said Robinson.
As the last item on the program, Cecil County Chamber President/CEO Bonnie Grady announced a surprise category when she presented two first-ever "I.M.P.A.C.T. Cecil County" Certificates of Recognition to Linda Tull and Krista Gilmore from the Cecil County Department of Senior Services and Community Transportation.  Grady explained this special category was created to honor "Individuals Making Positive Additions and Changes To Cecil County".  Tull and Gilmore are founders and creators of the new web-based, user-driven, interactive database that powers the new online community service known as Volunteer Cecil.
The Chamber hopes to make the Business Spotlight an annual celebration of our community, according to Grady.
For more information on this event, or about the Cecil County Chamber of Commerce, contact Bonnie Grady at bgrady@cecilchamber.com or 410-392-3833.