History of PAWS
Founded in 2005 by Lynne Robinson, a former teacher and active pet visitation volunteer, PAWS has grown from 21 therapy teams visiting 10 different partner sites in its first year to 350+ therapy teams serving 150+ sites today.
The Founding of PAWS
Lynne Robinson, after 23 years of teaching in public schools, retired and decided to spend her time as a volunteer. She donated hundreds of hours to Read Aloud Delaware, United Church of Christ, RSVP, and Literacy Volunteers of America. But she still wanted to do even more.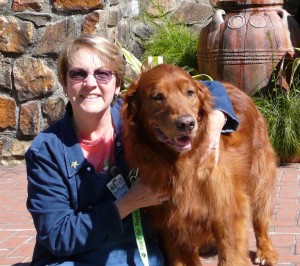 She knew that there were many patients in hospitals and retirement homes who would love to have visits from pets. But Lynne wanted, along with her dog, Boo, to not only visit, but also provide therapy. In 2003, Lynne and Boo became a certified therapy team and began visiting sick, disabled, and lonely seniors. In each case, Boo's activities were prescribed specifically for the person receiving the visit. Positive responses followed quickly and as she began getting more requests for her therapy visits, Lynne realized her agency of two needed to become a non-profit agency with many more therapy-certified owner/pet teams to extend the outreach she had established.
In 2005 Lynne founded the non-profit organization PAWS for People. Its mission is "to lovingly provide elders, children, and folks with disabilities individualized therapeutic visits with a gentle affectionate pet."
Lynne reached out to pet owners, veterinarians, and humane organizations and gradually built up tremendously dedicated teams. She developed a certification program to assure that all people visited would feel safe and well cared for by their PAWS team. She built relationships with hospitals, schools, and service providers to identify current and emerging needs.
Today, PAWS for People supports 350+ members visiting 150+ sites and is the largest provider of animal-assisted therapy in the Mid-Atlantic region. Whether it be helping a child with autism learn new social skills, aiding an injured youngster with physical therapy, comforting a hospice patient, distracting a child during chemotherapy treatment, assisting a struggling reader, or being a familiar reminder to an Alzheimer's patient, a visit from a PAWS' therapy team makes a difference.