Staff
Our Staff
Lynne Robinson: Executive Director
Exec
utive Director and Founder of PAWS, Lynne has been actively involved with pet-assisted visitation since she rescued her third golden, Boo Radley, in 2003. She is proud and pleased to have been a part of growing PAWS to the respected and successful organization that it has become.  With her three golden retrievers, Sundance, Summer, and Calli, Lynne continues to pilot new programs and enjoys visiting, working with our volunteer teams, and overseeing PAWS as a whole.
(302) 351-5622, x.102; LRobinson@PAWSforPeople.org
---
Stephanie Barry: Associate Director
Stephanie began her career at PAWS in September 2007 as the Office Manager. As PAWS quickly grew, in 2009 Stephanie moved toward program development, especially the PAWS for Reading program.  In the past few years, she has assisted in the creation of PAWS' programs and specialized training including the Autism Initiative, PreK PAWS, Psychiatric Support PAWS, Courthouse Canines, and the Disabilities Program. Stephanie also coordinates the PAWS Nemours/AI duPont pet therapy program.
Stephanie owns a fish named Herman, a pupy named Maggie, and four (non-therapy) cats, Frannie, Zoe, Rosie, and Izzy. Outside of the PAWS world, she enjoys spending time with her sons, Sam, Max, and Nicky; reading; gardening; and traveling. 
(302) 351-5622, x.104; SBarry@PAWSforPeople.org
---
Rosemarie "Ro" LeNoir: Development Director
Rosemarie joined the PAWS for People staff in October 2014 as the part-time Director of Development. She comes to us with over sixteen  years of income developement work experince for both large and small nonprofits, along with volunteer experiences. As a life-long dog lover, Ro always felt that PAWS would be the perfect combination of her passions – helping people and dogs. Ro is excited to join PAWS and help to ensure that the amazing work being done by PAWS staff and Volunteer Teams continues and grows!
Two yellow labs, Ellie and 'grand-dog' Julianna, keep Ro and her husband active and busy. Ro enjoys visiting family, walking with friends, gardening, and volunteering as a UD Cooperative Extension Master Food Educator.
(302) 351-5622, x.106; RLenoir@PAWSforPeople.org
---
Clarice Ritchie: Community Engagement Coordinator
Clarice joined the PAWS staff in August of 2014. She comes to us from the American Cancer Society where she served as the Senior Manager for Relay For Life for the Delmarva Peninsula. As the Coordinator for Community Engagement at PAWS, Clarice is excited to be working to share the amazing work of PAWS and the impact that it is having in our local community. After many years of volunteering in programs with both animals and children and adults with special needs , Clarice is thrilled to have found a position where she can turn her passion into a profession. Outside of work, Clarice enjoys spending time walking, reading and traveling with friends and family.
(302) 351-5622, x.103; CRitchie@PAWSforPeople.org
---
Andréa Cox: Volunteer Coordinator
Andréa joined PAWS in July of 2016.  She brings with her over 20 years of customer service experience.  She is a recent graduate of Wilmington University with a B.S. in Organizational Dynamics.  Andréa has always loved helping people and dogs.  She is excited that working with PAWS gives her the opportunity to combine these two loves in her life.
When not working, Andréa enjoys spending time with her husband and daughter and other family and friends.  They share their home with three dogs, they love dearly.  Her hobbies include baking, reading, quilting and crafting.
(302) 351-5622, x.110; ACox@PAWSforPeople.org
---
Rachel Snijders: Training Coordinator
Rachel Snijders (pronounced Snyders) arrived at PAWS with a great deal of training experience as well as a background with nonprofits and counseling. She has served on the boards of non-profit organizations for the past 15 years and is passionate about animal and human services. She has specialized in trauma counseling and training of first responders as well as community counselors. She served as a supervisor for post-graduates in the psychology and education departments of the University of Johannesburg and continues to support others in the field of counseling.
Originally from Johannesburg, South Africa, Rachel now lives in North Wilmington, DE with her husband, Louis, and their rescue cat, Itsy. She likes to hike, kayak, and barbecue. She also enjoys making one-of-a-kind jewelry; you will most likely see her wearing one of her own creations.
(302) 351-5622, 107; rsnijders@pawsforpeople.org
---
Julie Haytas: Office Manager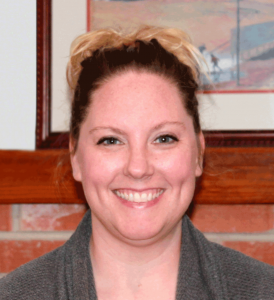 Julie joined PAWS in May, 2015. She recently relocated to PA from the Jersey Shore. She brings with her professional experience in administrative support and volunteer experience with fundraising for several different organizations including the Monmouth County, NJ SPCA, Easter Seals, Susan G. Komen for the Cure, and Cookies for Kids Cancer. She is a Licensed Massage Therapist and is interested in becoming certified in Canine massage. She and her son, Joey, love to go to the zoo, parks, and the beach.
Helping PAWS volunteers with their needs and hearing about their experiences is a highlight of my job. I am thrilled to be part of the PAWS for People organization!
(302) 351-5622, x.108; JHaytas@PAWSforPeople.org
---
Laura Garver: Administrative Assistant
Laura started at PAWS in February 2016. She has over fifteen years of Customer Service experience in the manufacturing and printing industries. To Laura, being a supporting member of the PAWS office team and helping others pursue the shared vision and mission of PAWS for People is fulfilling in many ways.  Outside of PAWS, she enjoys spending time with her family and friends, candle-making, gardening, and cooking up new healthy recipes.  Laura and her family also enjoy their two (non-therapy) rescue cats, Bodhi, a Siamese mix, and Ruby, a little gray tabby. 
 (302) 351-5622 x.108; LGarver@PAWSforpeople.org
---
Wendy Lewis: Webmaster
Wendy has been with PAWS in a variety of capacities since it was founded in 2005. She currently serves as our Webmaster and registration coordinator. When not doing something PAWS related, Wendy is Speech-Language Pathologizing; loving on her dog Jonah, and two cats, Quinn & Remi; or making up new words.
To contact Wendy, please e-mail registration@PAWSforPeople.org
---
Michele Shockley: Dog Trainer
Michele has been involved in training and competing with her own dogs in obedience, herding, agility, and nose work for 23 years.  For most of that time she's also been helping others develop a bond and a relationship with their dogs through training.  She is currently involved with competition obedience and herding with her dogs.  One of her border collies is also a therapy dog for PAWS for People and they greatly enjoy their visits to assisted living and occasional community events. Michele has attended, and continues to attend workshops and seminars in a variety of dogs sports to stay current on the latest fun ways to train.
Michele strives to train and teach in such a way that her dogs and those of her students develop a joy, a willingness and a love of their "work."  She believes that training can be fun for owners and their dogs and wants everyone to know the amazing potential of their 4 legged friends!
To contact Michele, please e-mail info@PAWSforPeople.org
---
Karen Powell: Dog Trainer
Karen has been actively involved in training and competing with her dogs for 10 years.  She owns German shepherds and enjoys training in many dog sports including competitive obedience, rally, tracking, nose work ,and will be starting sheep herding with her new addition, Raiden. She has attended numerous seminars and workshops from some of the most well-respected authorities in dog training and will continue to do so in the future.  She loves to learn and stay current to expand her knowledge of the latest techniques in training.
Karen believes that it is very important for puppies and young dogs to get the proper socialization and training they need to become good companions and citizens that are a joy the be around.  Training can build a strong relationship and bond between dog and owner, and be positive and FUN!
To contact Karen, please e-mail info@PAWSforPeople.org
---